AidStream is the most recommended tool to report and publish your aid data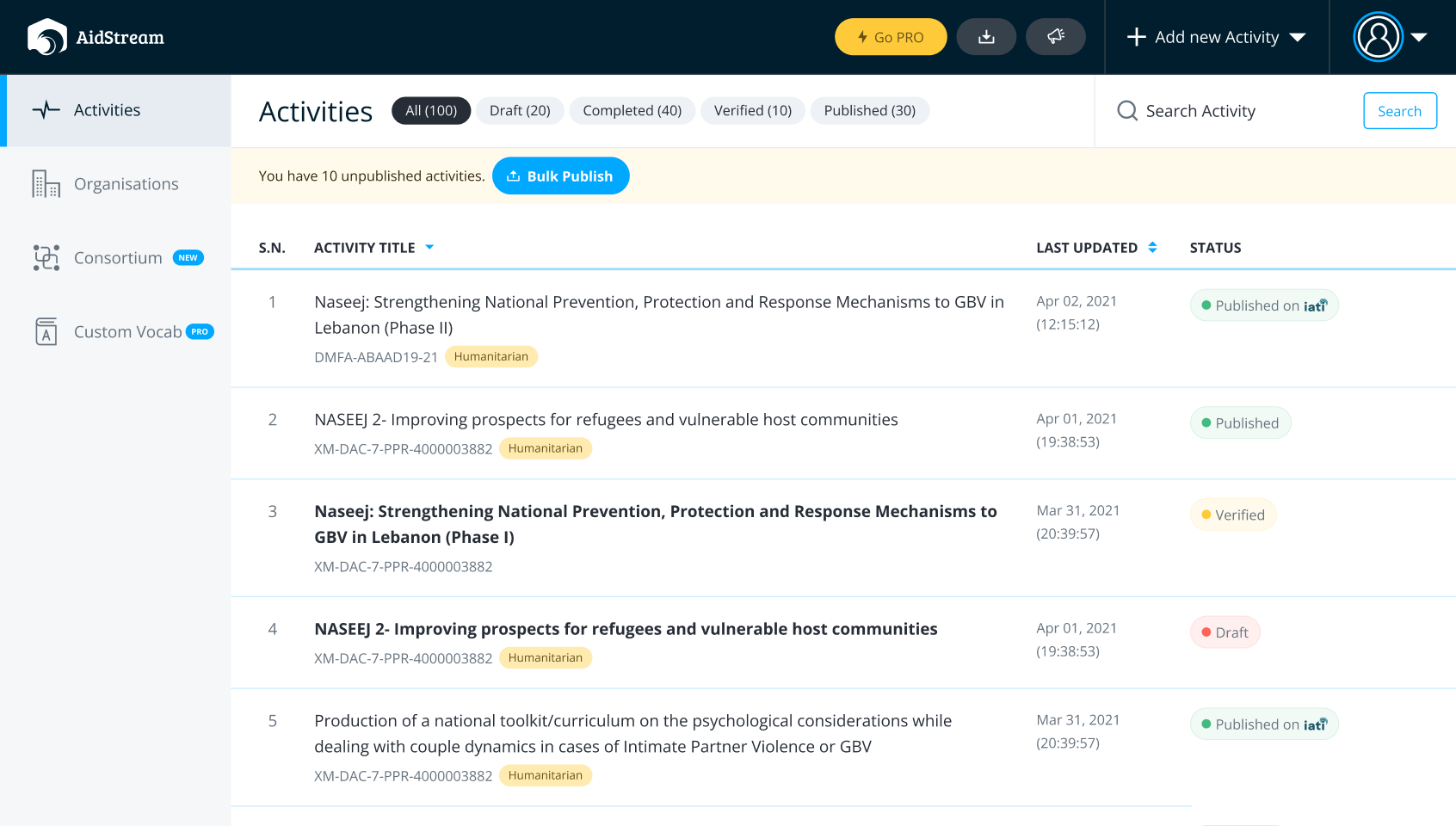 AidStream is an online platform that allows you to publish your data in the IATI standard effortlessly. We are here to support the IATI's aim to make aid data open and transparent. We understand the complexities that non-technical users face with XML file management/handling. Hence, we built AidStream to assist on your organisations' journey to become aid data transparent, hassle-free! AidStream is available to help all global development organisations achieve aid data transparency. With all the required elements as required by the IATI standard categorized clearly, publishing your aid data is now as easy as filling up a form.
Who are we?
In 2011, YoungInnovations, a software development firm based in Nepal started AidStream as a small portfolio service to help small and medium development organisations to publish their activities in IATI standard. Following a decade after its establishment, AidStream has become a leading platform for development organisations around the globe to publish their aid data. We are delighted to have reached here and have an ecosystem of more than 1000 organisations in 70+ countries.
We are focused on providing open data and technology solutions to address development issues including transparency, accountability, and civic engagement. We are committed to solving problems by understanding and analysing our users' needs.
We are grateful!
We are grateful to have each and every organisation on board with us. We are thankful to everyone who has been supporting our efforts since the initiation of AidStream. We hope to be of help to you in the years to come. We need your support to grow and sustain to keep the spirit of transparency alive.
If you value our contribution to the development community, we need your support! Please reach out to us at info@aidstream.org to see how you can get involved.
Publishing organisations over 80 different countries are entering data into AidStream with ease.
Join 1000+ organisations to publish your data through AidStream